The BBC reports on another murder committed by an angry mob in the name of their religion.
No other world religion has a problem on such a scale - violence and the threat of violence are common in response to allegations of blasphemy and apostasy, as Salman Rushdie found out to his cost of course.
Pakistan student killed over 'blasphemy' on university campus
BBC Asia


Image copyright - AFP Image caption - The Abdul Wali Khan University in Mardan has been closed until further notice

A university student in Pakistan accused of blasphemy against Islam has been killed by a mob of fellow students on campus, police say.

Many students have been arrested after the brutal attack in the northern city of Mardan, and the campus has been closed.

Reports suggest that two young men were accused of posting offensive content on Facebook. One survived with injuries.

Blasphemy is a highly sensitive and incendiary issue in Pakistan.

'Badly tortured'

Critics say blasphemy laws, which allow the death penalty in some cases, are often misused to oppress minorities.

There have been other cases where people accused of it have been killed by an angry crowd.

The murdered student has been identified as Mashal Khan, who studied journalism. Some reports say he was shot, while others say he was beaten to death with planks.

"He was badly tortured after being shot at a close range... He was beaten with sticks, bricks and hands," senior police official Niaz Saeed told the AFP news agency.

Hundreds of people were involved, the officer said. Graphic video footage of the incident has emerged online.

Police had not been investigating the two accused men, nor had any case been filed against them, and the mob appeared to have acted on rumours, the Dawn newspaper reports.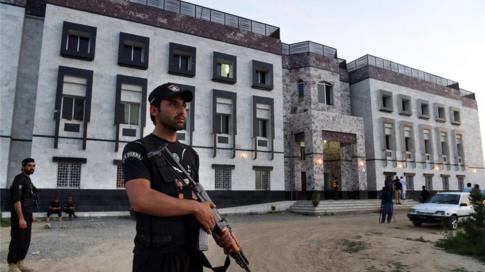 Image copyright - AFP Image caption - Police guard the dormitory where the attack occurred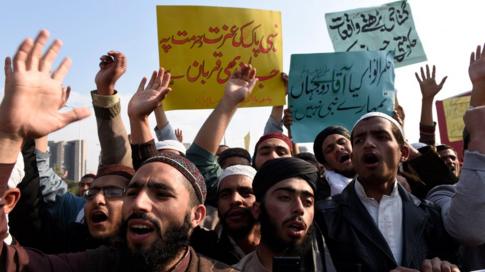 Image copyright - EPA Image caption - Protests against blasphemy on social media were held in Islamabad last month

Last month Prime Minister Nawaz Sharif voiced his support for a wide-ranging crackdown on blasphemous content on social media.

In a statement on his party's official Twitter account, he described blasphemy as an "unpardonable offence".

An official at Abdul Wali Khan University who spoke on condition of anonymity said Mr Khan was disliked by other students for his liberal and secular views.

At least 65 people have been murdered in Pakistan after being accused of blasphemy since 1990, a recent think tank report said.
Something to do with Islam (22/11/16)

The Times reported the other day that Indonesia's top Christian politician is to be prosecuted for blasphemy.
Basuki Tjahaja Purnama, Governor of Jakarta, is in trouble with the law, apparently, after criticising political opponents who use teachings from the Quran to argue that Christians should be prevented from holding high public office.
The Quranic verse which has caused all the trouble suggests that Muslims should not choose non-Muslims as leaders.
The decision to prosecute Mr Purnama comes after conservative Muslims staged angry street protests in Jakarta.
If convicted, the Governor faces a prison sentence of up to 5 years and his trial will no doubt interfere with forthcoming elections in February 2017 where Mr Purnama is up against two Muslim opponents.
Something to do with Islam (06/04/17)
The Independent reports that the spiritual leader of the world's Shia Muslims, Ali Khameni of Iran, has urged his followers to resist feminist ideas and abandon the fight for gender equality which the Ayatollah dismisses as a "Zionist plot".
Now this kind of nonsense strikes me as something to do with regarding holy books such as the Quran as the 'literal' word of God combined with a highly conservative view of Islam in the 21st century.
But read the full story via the following link to The Independent and decide for yourself.
Iran's Supreme Leader claims gender equality is 'Zionist plot' aiming to corrupt role of women in society

Ayatollah Khamenei claims West makes women an 'object of gratification'
By Lizzie Dearden - The Independent

Ayatollah Ali Khamenei addressing the nation on the occasion of Nowruz, the Persian new year, in Tehran on 20 March AFP/Getty Images

Iran's Supreme Leader has claimed gender equality is a "Zionist plot" aiming to corrupt the role of women in society.

Ayatollah Ali Khamenei told a meeting of religious speakers that Iranians should resist feminist ideas and instead hold the Prophet Mohamed's daughter Fatimah as their ideal.

"Making women a commodity and an object of gratification in the Western world is most likely among Zionist plots aiming to destroy the society," he said, according to a translation on the Shia Muslim leader's official website.

"Today, Western thinkers and those who pursue issues such as gender equality regret the corruption which it has brought about."

Khamenei claimed that men and women are equal in the "ascendance of spiritual positions, the power of leadership, and the capability to lead humankind", but that some tasks for women "collapse and humiliate" their primary roles as housewives and mothers.